Last week, Nepal Government rolled out the COVID-19 vaccination campaign for people with disability [PWD]. Though the vaccines are made available, people with disabilities still face unique and frequent barriers to accessing reliable, timely, convenient, and cost-effective transportation. There is often a limited choice for seeking the appropriate mode to get to the vaccination centre. This is a case story of *Sumitra, a 34-year-old arthritis patient.
Like any other citizen, *Sumitra was also happy when she heard about the vaccination campaign targeted for PWDs. "I was excited about getting the shot after the long wait; however, I also worried about how was I supposed to get there to the vaccination centre. For wheelchair users like me, we face significant hurdles in travelling, and it is always painful getting on public transportation and other vehicles which are not disabled-friendly."
In coordination with Independent Living Centre [CIL] – Pokhara, Green Pastures Hospital [GPH] provided the vehicle transport facility for wheelchair users from their homes to the vaccination centre. This vehicle was not just a regular vehicle but a disabled-friendly vehicle with the hydraulic wheelchair lift installed on it.
Suchitra shares, "When the vehicle arrived, and I was lifted along with my wheelchair by the lift machine, my relief knew no bounds. It was completely a new experience for me as I had never seen that before. It was easy, and I was comfortably placed inside the vehicle with my wheelchair. There were no hassles in getting inside the vehicle. I am so thankful to INF Green Pastures Hospital for their thoughtfulness and service in this crucial hour. I am certain that many wheelchair users like me will benefit from this vehicle service."
INF Nepal continues to respond to the current COVID-19 crisis addressing socioeconomic impacts, filling the gaps of fundamental health care access, supporting the Government and other stakeholders with additional resources, and ensuring the financial sustainability of vulnerable individuals and families.
Many of the ongoing actions and emerging priorities include protecting and caring for the most vulnerable people, delivering vital support and providing direct relief to people with disabilities and their families whose life has been hit the hardest.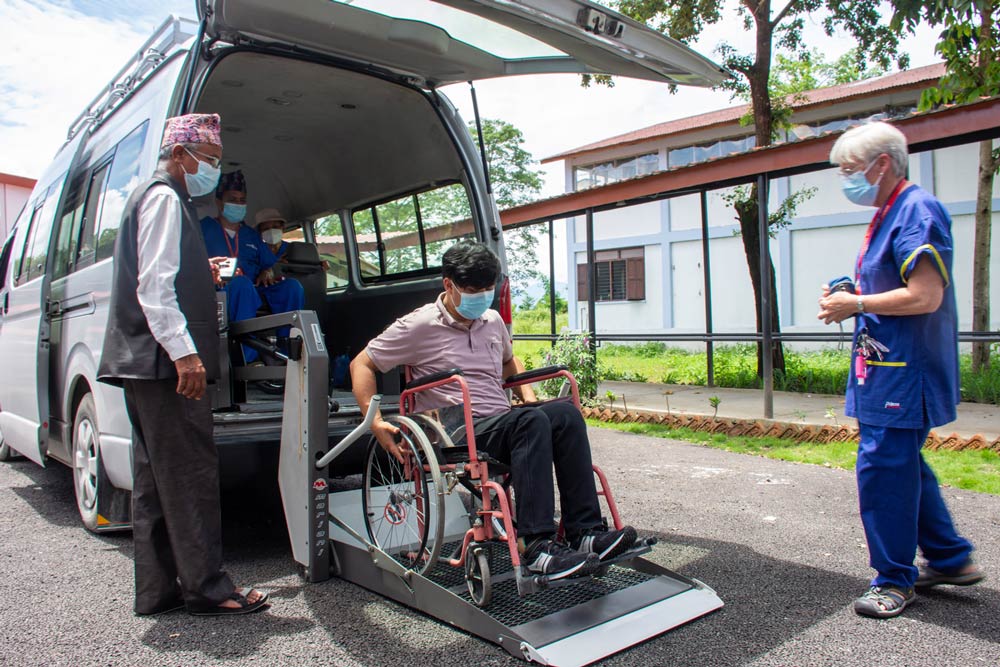 * Name changed for anonymity