INF Nepal celebrated 68th World Leprosy Day by organising different programmes on Sunday 31 January 2021. The last Sunday of January is observed as the World Leprosy Day worldwide. This year the theme was Restraining Corona Pandemic, timely action in managing Leprosy.
Virtual celebration:
INF Nepal and Youth NGO Federation Nepal jointly organised a virtual meeting. The guest of honour of the programme was Honourable State Minister, Ministry of Health and Population Mr Nawa Raj Rawat. Special guest was Trilochan Bhattarai. Other key speakers were Dr Basudev Pandey, Joint Secretary MoHP; Dr Madhav Prasad Lamsal, Section Chief, Leprosy Control and Disability Management Section. Participants were INF staff and other stakeholders.
Guest of honour State Minister Mr Rawat extended best wishes for the leprosy day while highlighting the malpractice and superstitions prevalent in Nepali society towards this disease. He pointed out why it is essential for a collaborative effort from the Government Institutions, all political parties, and organisations to raise awareness at the grassroots level. On behalf of Nepal's Government, Mr Minister also thanked INF Nepal for its service and outstanding contribution in this field of leprosy treatment and their rehabilitation for a long time.
Other speakers also pointed out the importance of working together collaboratively 365 days towards attaining zero Leprosy in Nepal. Narayan Giri facilitated the meeting.
Formal programme:
INF Nepal also organised a formal programme at Multipurpose Learning Centre [MPLC] in GP Complex. This World Leprosy Day INF continues in its commitment to eradicate and rehabilitate those affected by the disease. INF Nepal seeks to increase public understanding of Hansen's disease and tackle its social stigma. INF Nepal Executive Director, Krishna Adhikari chaired the programme. The guest of honour for the programme was Prabhu Bank Bagar, Branch Manager Mr Hemanta Acharya. Staff members from the Dermatology and Hansen medical team, Hansen nursing team, and staff members affected by leprosy and unit heads of each unit attended the programme. The programme was limited to a few attendees following the safety measures.
Dr Suman Tamang, Acting Hospital Superintendent, welcomed everyone to the Leprosy Celebration event, and Dr Ramesh, Head of Dermatology and Leprosy gave a general overview on Leprosy. In his presentation, he highlighted some of the significant facts, myths and challenges in the leprosy sector. He emphasised that overcoming Leprosy involves early diagnosis, prompt treatment, and most importantly changing mindsets so that Leprosy is no longer a source of disgrace or prejudice.
The programme saw testimony from a former leprosy patient Bhim Bahadur Thakuri who shared his journey on how his life has been transformed through the treatment and care at GPH. He expressed his gratefulness towards the Green Pastures Hospital to heal his physical and emotional wounds, and give him hope to live with dignity.
Likewise, Nalome Rongong, Fundraising and Marketing Manager shared about the recently launched Leprosy Care for Cure fundraising Campaign. She also announced that INF Nepal had won the social media contest organised by Sasakawa Health Foundation on the theme "Work" marking World Leprosy Day 2021 and a Global Appeal to End Stigma and Discrimination against Persons Affected by Leprosy.
INF Nepal handed over an appreciation letter to Prabhu Bank Bagar Branch for their contribution and partnership to Leprosy Care for Cure Campaign. Mr Hemanta Acharya branch manager received an appreciation letter, and in his speech, he thanked INF Nepal for the remarkable work in Leprosy. He shared his joy to be part of this Leprosy movement and their commitment to future collaboration.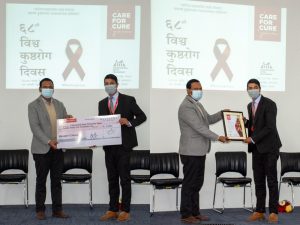 At the end of the programme, Leprosy patients were provided with presents; a gift of love marking this special day a better hope of a Leprosy free world.
INF Nepal Executive Director concluded the programme with closing remarks. He recalled the INF history in Leprosy work over the years. He shared that INF longs for the day where Leprosy is completely eliminated in Nepal even in these challenging times. Until that day, we will continue to work and pray. He further added that the INF Nepal board, senior management team and management committee is fully committed to continuing the leprosy work. Hence Leprosy Care for Cure campaign is initiated to reinforce leprosy work commitment. He expressed his gratitude to Prabhu Bank for their partnership and joining hands for the leprosy movement.
In his closure, he thanked everyone who has been part of INF Leprosy work from the very beginning for their outstanding contribution and relentless service to the people affected by Leprosy. Dorothy Das hosted the programme.
Before organising this formal event, various games and activities were organised inside the GP complex involving both patients and INF staff. Patients and their caretakers actively engaged, danced, played and ate together. The former leprosy-affected INF staff prepared food while other staff assisted in cutting.

Winning Sasakawa Social Media Contest:
We also had one more reason to rejoice as INF Nepal won the Social Media Contest organised by the Sasakawa foundation as a part of their global appeal to fight Leprosy. A photo or two and a short caption detailing the picture had to be shared over Facebook or Twitter with the provided set of hashtags. Two of our photo stories have been featured in their photo exhibition.
To see more photos from the day, visit here.
INF is also running its Leprosy fundraising movement, to learn more visit www.inf.org/careforcure