Kamali* Rokaya is a 55-year-old woman from Nigale village in Chayanath Rara Municipality of Mugu, situated on steep terrain and rugged mountains.
There are ten members in Kamali's family. Kamali and her husband live in a small room built on the roof of her house called PAAD in the local language. She lives in that room instead of her original home because of her physical disability.
She has difficulties moving her body below the waist, so she needs assistance to get around. She used to have to rely on a locally available stick and the help of someone else to move from one place to another, which made things more challenging for her caregivers.
Kamali is also a member of the Karnali self-help group, formed under the facilitation of the DARRDO Nepal to implement INF Nepal's SAMBRIDDI project in her village.
She received an Axillary crutch from the SAMBRIDDI project, which enabled her to walk by herself in plain areas. But still, she couldn't use the toilet as it was built on a slope and was far from home. Most of the time, she was unable to travel there. So, she had to defecate in the open spaces in the small flat area nearby her house. She used to wake up early or at midnight to defecate so no one could see her. She says, "It was an immense problem for me (to defecate in an open area), especially during the monsoon and winter seasons. I was miserable and used to cry daily."
In collaboration with the local ward office and Kamali's husband, the SAMBRIDDI project facilitated the construction of an accessible toilet for Kamali.
Kamali has now been freed from the compulsion to defecate in the open place. This has significantly reduced the burden on her caregivers, and her husband is grateful to the organisation and the project. Kamali is thrilled with the new toilet and feels incredibly grateful. She says, "I am very happy to use the toilet, and now I don't need to wake up at night in fear of other people."
Kamali no longer has to suffer in silence or endure the misery of open defecation. Thanks to the SAMBRIDDI Project, Kamali can live her life with dignity and independence.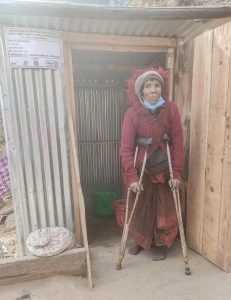 *Name changed for anonymity