What a way to begin celebrating INF's 70 years of service in Nepal next year by two important events – foundation stone laying of New Leprosy Ward at GPHRC and the opening of Shining Nepal Multipurpose Company [SNMC]'s Ark Bazaar in GPH Complex, Pokhara. This is a part of our plan to organise 70 different events throughout the year leading up to the following year's 70th INF's Anniversary on 17 November 2022.
This new leprosy facility is an extension of an already existing leprosy service at GPHRC, which will provide inpatient care in its own building.
SNMC is a "not for profit sharing company", and Ark Bazaar is one of its business ventures set up to support the charitable work of INF Nepal. Ark Bazaar promises to bring the products from its farm, INF Nepal SHGs and other local Nepali food products.
Celebrating 69th INF Day
On 17th November, we celebrated 69th INF Day with the small gatherings at the MPLC building inside GPH Complex. INF Nepal Board members, General and Life Members, expatriate friends and staff members participated in the programme while other staff from our district branch offices joined virtually.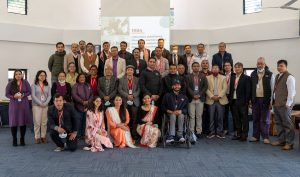 This day also marked the beginning of our next year's 70 years of service in Nepal. Some of the glimpses from our celebration programme can be found
here
.