Care for Cure
Towards Zero Leprosy
INF's Leprosy Campaign
Support from the corporate sector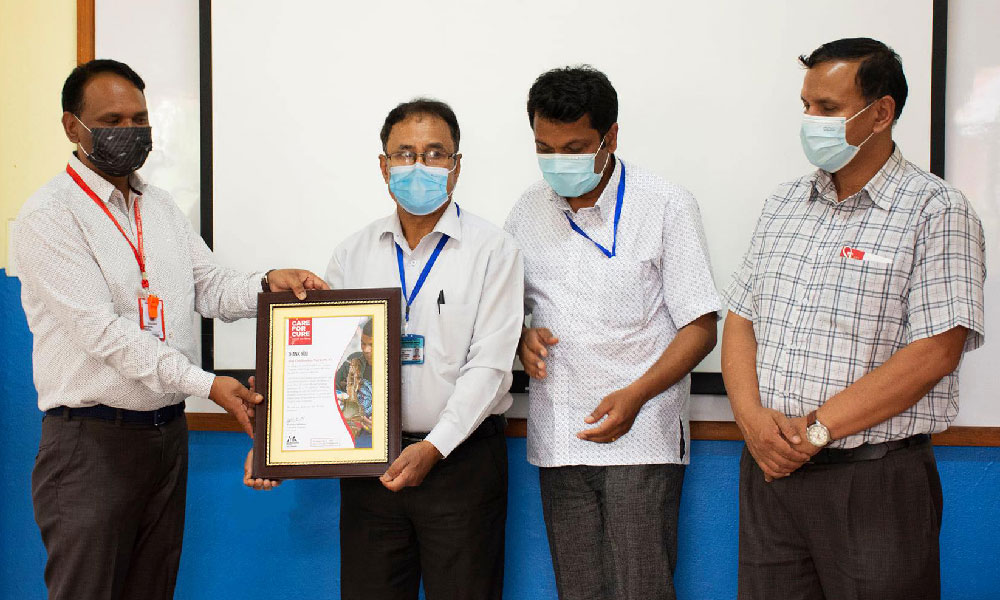 Asal Chhimekee Nepal [ACN]
ACN contributing NPR 50,000 [USD420].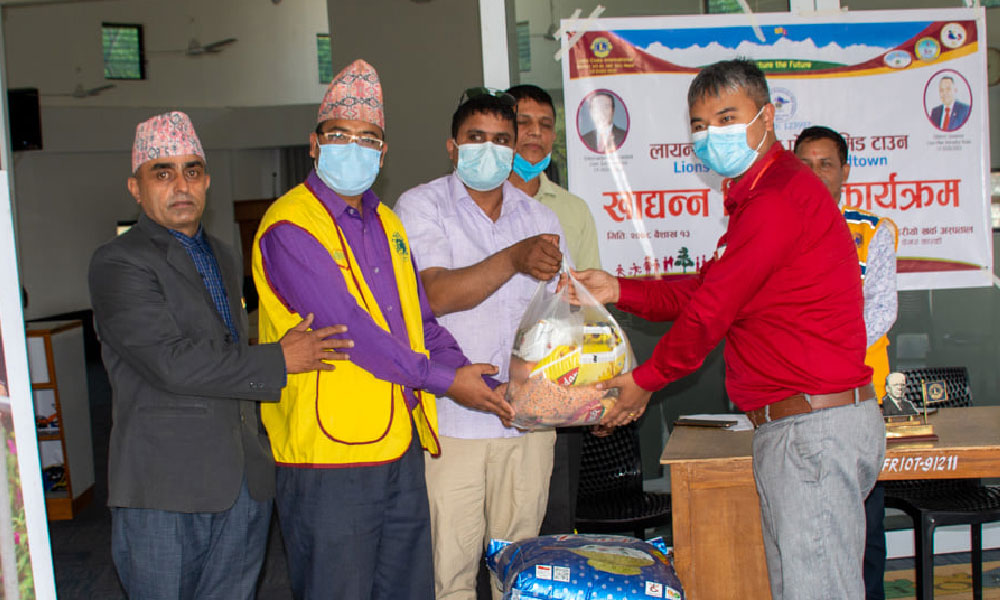 Lions Club of Pokhara Midtown
Lions Club of Pokhara Midtown handing over food items.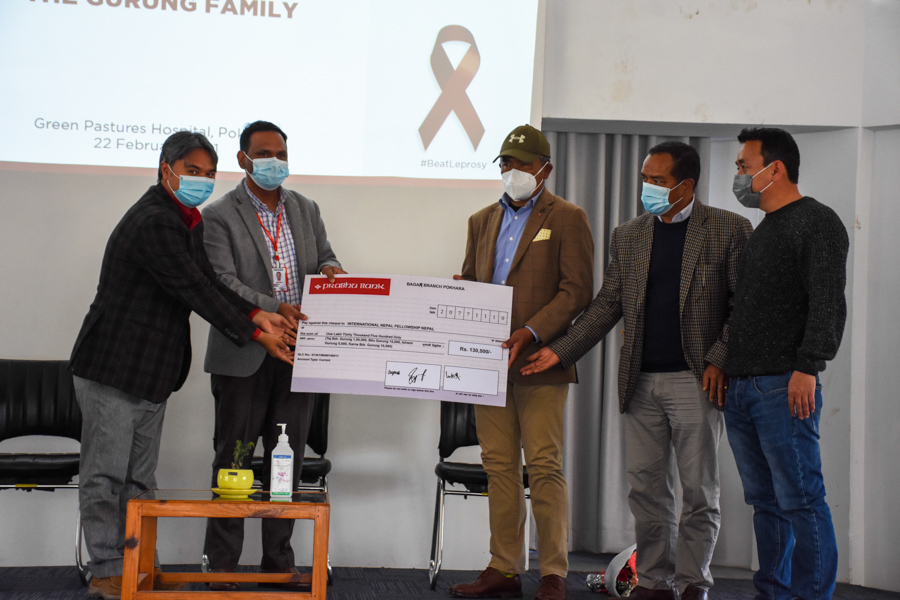 Gurung Family
Tej Bahadur Gurung, Ishwor Gurung, Binu Gurung and Karna Gurung collectively contributed NPR 130,500 [USD1,124]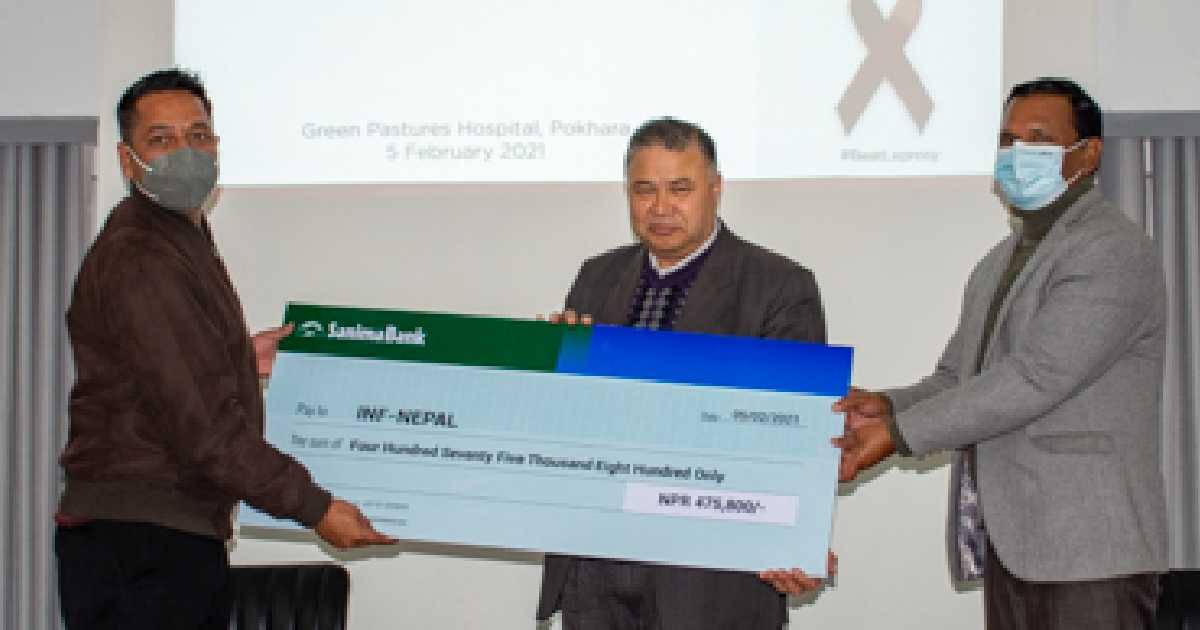 Sanima Bank
Sanima Bank Limited supported the campaign with NPR 475,800 [USD 4084].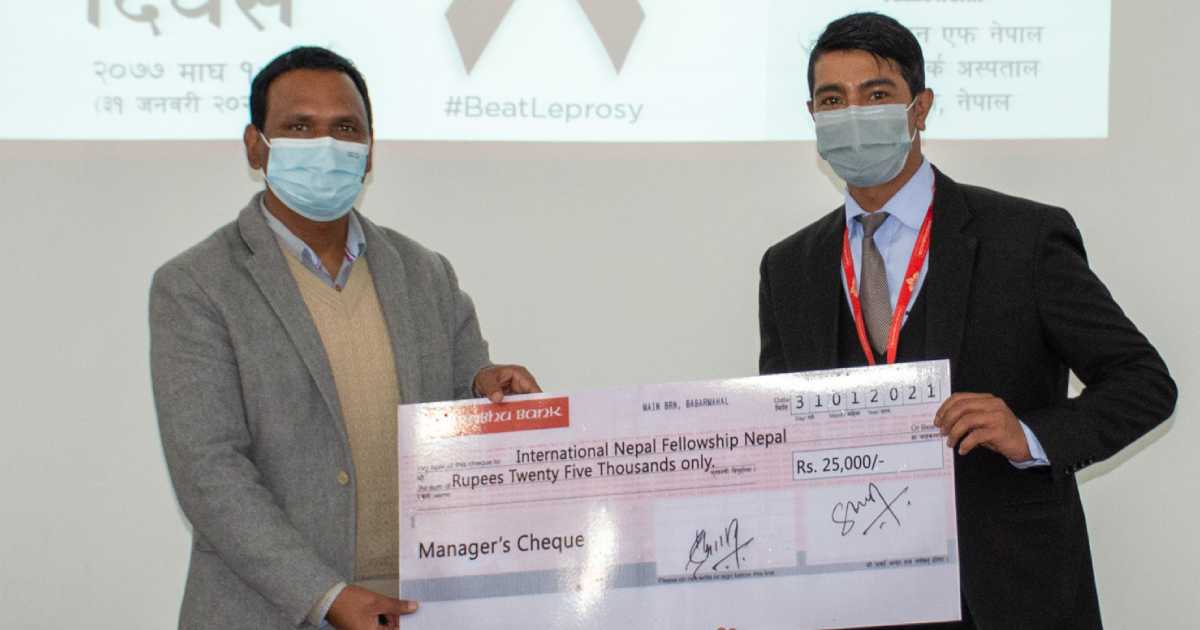 Prabhu Bank
Prabhu Bank Limited supported the campaign with NPR 25000 [USD 215].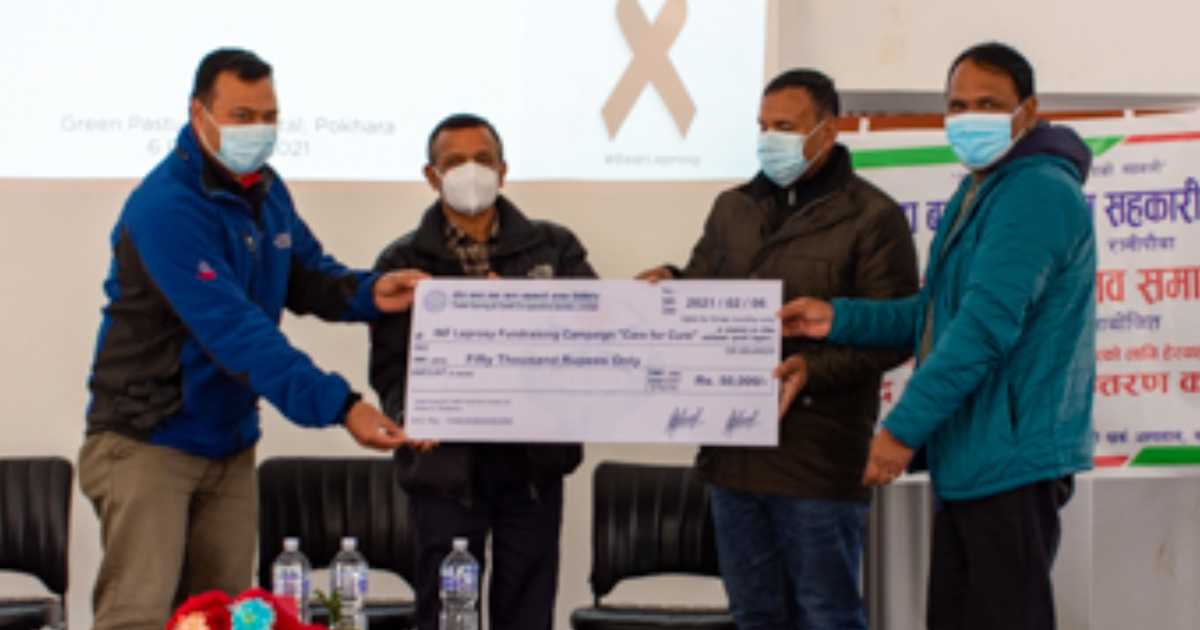 Todah Co-operative
Todah Saving & Credit Co-operative Limited supported the campaign with NPR 50,000 [USD 429].
Total Fundraising Target: NPR 20,000,000 [USD 170,000]
Total Funds Received as of 15 March 2023: NPR 5,355,096.39*
* ~27% of a total target
Every year more than 3,000 people in Nepal are diagnosed with leprosy. Many more will remain undiagnosed due to stigma, fear, and lack of medical expertise while for some, it is still about battling the unknown.
What is Leprosy?
Leprosy, also known as Hansen's disease, is caused by Mycobacterium leprae. It causes nerve damage and muscle weakness.
Symptoms may occur within one year but can also take as long as twenty years or even more to appear.
Leprosy is transmitted via droplets, from the nose and mouth, mostly during close and frequent contact with untreated cases.
Untreated, leprosy can cause progressive and permanent damage to the skin, nerves, limbs, and eyes.
Children too are the victims of the disease. Their disease is usually transmitted from a family member or close relative.
Leprosy is treated with Multi-Drug therapy [MDT]. Treatment is effective and free for all patients. Though treatable, stigma associated with leprosy is a huge challenge to overcome.
INF's Leprosy Work
Since its establishment in 1952, the International Nepal Fellowship [INF] has cared for leprosy patients. INF continues to treat and rehabilitate patients affected by leprosy by providing multi-drug therapy, necessary surgery, peer counselling by former patients, and self-care training for patients with disease complications, ongoing impairments and the provision of assistive devices.
From the early 1970s, INF also helped to pioneer and support government-led leprosy control programmes in the western half of the country, identifying and treating cases of leprosy in some of the poorest and most remote districts of Nepal.
Work by the government, INF and other organisations led to a significant reduction in leprosy, and in 2009 the disease was officially declared eliminated in Nepal. This is defined globally as less than one case of leprosy per 10,000 people in the population. While this is a great achievement, the disease is not fully eradicated, with over 3,000 registered new cases per year.
 INF Nepal Green Pastures Hospital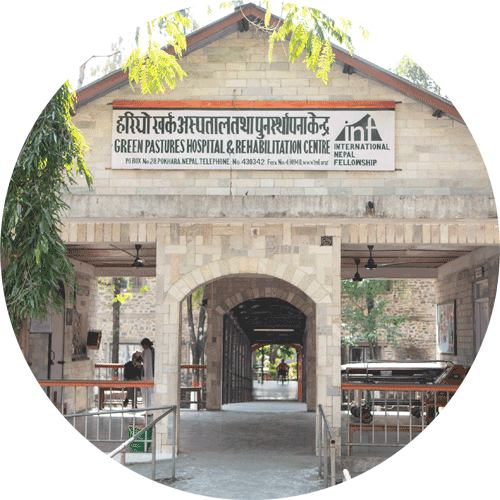 Shining Hospital – INF Banke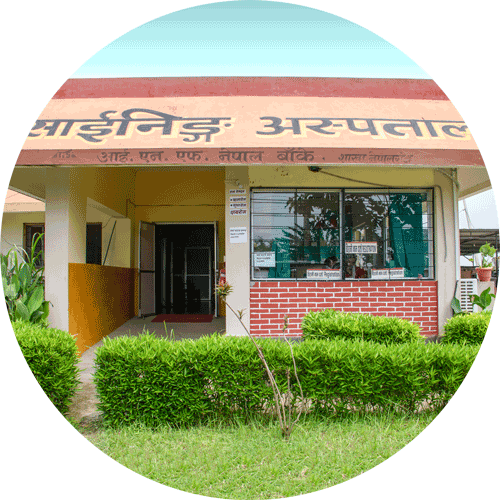 Shining Hospital –  INF Surkhet
Chandra Kala
"I worried a lot about my health condition during this lockdown, and my family couldn't afford to hire an ambulance and almost lost hope about receiving treatment"
With the announcement of 'lockdown' in the country on the 24 March 2020 to prevent the spread of COVID-19, INF hospitals needed to halt outpatient services. Many inpatient services were also placed on hold.
The travel restrictions prevented persons with disabilities and people affected by leprosy from leaving their homes for ten consecutive weeks and thus unable to access health facilities. Chandra Kala [55, F], from Gorkha district, is one of those severely affected.
Chandra contracted leprosy a few years ago. She felt tingling in both hands as an early symptom. Having visited several other hospitals without getting a proper diagnosis, Chandra visited INF's Green Pastures Hospital in 2019, where she was diagnosed and started receiving the correct treatment. Chandra started Multi-Drug Therapy [medicine] treatment, and her condition improved gradually, but during the lockdown, she could not replenish her supply of medicine.
As a consequence, Chandra lost sensation/feelings in her hands and legs and became bedridden. The family was desperately seeking care; it took five months for Chandra to be able to come to the hospital and restart her treatment. Chandra is feeling better now. She can walk again and look after herself.
To provide a medical response to patients like Chandra, INF Nepal has started a Tele-medicine service, reaching out to stranded patients with medicine and supplies, helping to cure and prevent disabilities.