Disaster Response and Resilience [DRR]
Thirty houses were burnt to ashes after a fire broke out in Gothi village in remote Jumla. In coordination with the District Disaster Management Committee [DDMC], INF Nepal conducted an initial rapid assessment. Based on this assessment, INF Nepal provided Food items support to 30 households. The response work was reported to the Nepal government Emergency Operation Centre [NEOC] Kathmandu and Province Health Emergency Operation Centre [PHEOC] Karnali Province.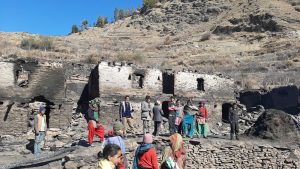 INF has supported the landslide affected people of Myagdi, Parbat and Kalikot district with much-needed relief materials.
Each year during the monsoon season, massive rains trigger flash flood and landslides across the steep and mountainous terrain in the hilly regions of Nepal endangering many human lives and communities. INF in direct coordination with district disaster response committee and the respective Rural Municipalities [RM] has been carrying out support and immediate relief material distribution activities in flood and landslide affected communities.
According to the National Emergency Operation Centre, Home Ministry of Nepal, between August and September, 624 families were affected across 30 districts due to the landslide and flood where 111 people have died, 32 still missing and 105 people are injured.
In Nepal, every monsoon, the southern part of the country are battered by the floods and the hilly districts are affected by landslides. This year too, from May to July, as many as 47 districts across Nepal were severely affected by landslides and floods caused by the torrential rainfall. According to the National Emergency Operation Centre, Home Ministry of Nepal, more than 200 people have died, 100 missing and 167 people are injured.
Recently, INF has responded with much-needed relief materials to the flood and landslide affected people of Kalikot, Myagdi, Parbat, Lamjung and Tanhun districts.
INF's dedicated disaster response team try to reach to the disaster affected areas as quickly as possible. In coordination with the local government authorities, we support the neediest and vulnerable people.
Stay updated on our disaster response work through our regular Facebook updates.
Latest news about INF's DRR work