The Else Kröner Fresenius Award for Development Cooperation in Medicine has been awarded to INF Nepal's Dorothy Das and Tham Bahadur Gurung for the project "70 Years of Leprosy Relief – Toward Zero Leprosy". The award ceremony was held on 17 October 2023 at the Wintergarten Varieté Theatre in Berlin, Germany.
Else Kröner-Fresenius-Stiftung (EKFS) is a non-profit foundation dedicated to funding and advancing medical research and supporting humanitarian projects.
The EKFS presents the Else Kröner Fresenius Award for Development Cooperation in Medicine once a year in recognition of exceptional achievements in development cooperation. Projects worldwide which serve to improve healthcare outstandingly are honoured. The award is endowed with 100,000 euros — money utilised directly for the projects.
Dr Judith von Heusinger, In-Charge of Humanitarian Funding at EKFS, explains the reason behind the choice of the award recipient: "With this year's award, we are honouring a project that demonstrates in particular how due to early detection of the infection along with the diagnosis, treatment or social support thereof the lives and health of those afflicted are consequently improved on a sustainable basis."
Terra Tech Förderprojekte e. V., a relief organisation, nominated the project. Dr. Gangolf Seitz, Executive Chairman Terra Tech, says: "We are pleased that INF Nepal, a partner being honoured with the award, is the one with whom we have been implementing successful projects in medical care and disaster prevention for over a decade."
Upon receiving the award, Krishna Adhikari, Executive Director of INF Nepal, expressed his gratitude. He stated, "We are honoured to receive this award from the EKFS foundation in recognition of our unwavering efforts in fighting leprosy and providing care to the afflicted. This award has encouraged us and will significantly enhance INF's efforts in leprosy prevention and treatment."
Dr Arun Kumar Budha, INF Nepal's Medical Services Director, stated that this recognition will enhance INF's ability to prevent leprosy, identify contacts, and perform preventive examinations for the families of newly diagnosed leprosy patients. He highlighted its potential to facilitate timely prevention, increase self-care awareness among patients, prevent disabilities, and raise awareness about leprosy in society.
Among more than 35 organisations worldwide, INF Nepal was honoured for its 70 years of contribution to health, particularly in treating and rehabilitating leprosy-affected individuals.
The award ceremony was graced by distinguished guests, including Dr Barbel Kofer, Parliamentary State Secretary of the Federal Ministry of Economic Cooperation and Development of Germany, His Excellency Ram Kaji Khadka, Nepal's Ambassador to Germany, and renowned Nepali Cardiothoracic Surgeon and Professor Dr Bhagwan Koirala and many other dignitaries.
Leprosy is one of the neglected tropical diseases. According to data from the WHO, it still occurs in more than 120 countries. Each year, over 210,000 patients come down with the disease worldwide. Although leprosy has been curable for many years, the afflicted continue to be shunned by society. When suspicion of a leprosy infection arises, the fear of exclusion causes many to be reluctant to seek medical help. If they are diagnosed and treated too late, however, the consequences can be visible and irreversible damage, for instance, to hands and feet and severely impaired eyesight.
70 years of leprosy relief
INF Nepal has devoted its efforts to the poorest and most marginalised segments of the population in Nepal since 1952. The focus thereby is placed on improving living conditions, adapting to climate change and strengthening resilience against natural catastrophes, as well as on advancing human rights and improving medical care for the people in western Nepal. The holistic, all-embracing treatment of people with leprosy is the core area of expertise at INF Nepal.
INF Nepal has been helping to diagnose and treat leprosy in western Nepal through its three hospitals in three provinces. In 1957, it founded the Green Pastures Hospital in Pokhara. The hospital has such a good reputation that patients even come from India.
Today, INF Nepal carries out more than 30,000 outpatient treatments on people with leprosy and annually admits over 450 patients with leprosy as an inpatient. Reconstructive surgeries are performed at the INF's Green Pastures Hospital, external professionals receive routine and advanced training, and the organisation has instituted an extensive leprosy prevention and rehabilitation programme.
The award-winners
Dorothy Das is an Occupational Therapist at Nepal's only all-embracing leprosy rehabilitation centre, the Green Pastures Hospital (GPH). Leprosy has had a formative influence on Dorothy since childhood, though she never caught the disease. Raised by her grandparents, who lived at an INF settlement for the leprosy-afflicted in the Bardiya district, she became familiar with the disease and its consequences early on.
She is in charge of examining afflicted patients regarding their abilities and disabilities. This forms the basis for the treatment plan and deciding whether an operation would be an option. "If we diagnose the disease early, we can prevent deformities and skin sores," Dorothy emphasises.
"These days, there is so much we can do to help people who suffer from the disease or subsequent damage caused by it. In addition to operations and rehabilitation, this includes preliminary and aftercare treatments, which are part of my work as an Occupational Therapist," explains Dorothy.
Tham Bahadur Gurung is a Patient Advocate and Counsellor at the Green Pastures Hospital. He was 22 years old when he was infected with leprosy. Years later, Tham first learned about the free leprosy treatments at GPH, where his diagnosis and treatment ultimately took place when he was 30. He was able to complete his training to become a counsellor later. Many people react to the leprosy diagnosis with fear or denial, so they are promptly referred to the patient advocate and peer counsellor in one Tham Bahadur Gurung.
"When I got diagnosed with the disease, I had fears about two things: one was fear about the disease itself, the other was will I ever be able to find a girl because of the deformities in my hands." That's why the first thing Tham Bahadur asks patients about is their feelings. Then he helps with forms for health insurance and welfare support, tells about possibilities for therapy, and gives support in talks with relatives. "I love all the patients with all my heart because I was in a similar situation, and to help them now like I once received help brings me peace and joy," says Tham Bahadur.
Some glimpses from the event: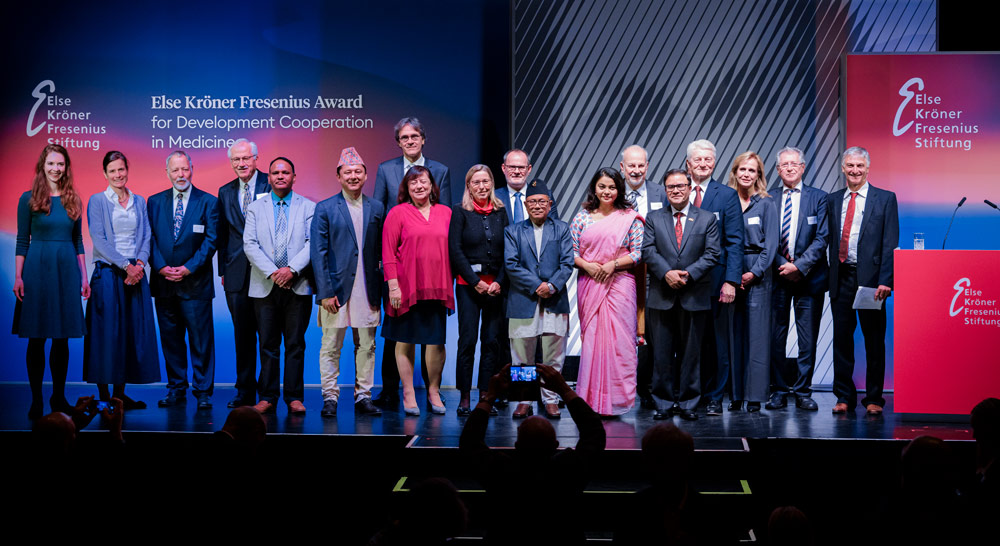 The film about the award-winners.
You can find more information about EKFS here.