INF has supported the landslide affected people of Myagdi, Parbat and Kalikot district with much-needed relief materials.
INF's disaster response team travelled to the remote Takam village in Myagdi district where team distributed galvanised steel panels and health hygiene items to the 27 of the much-affected households. Similarly, 70 families were provided with health hygiene kits.
The landslide after the heavy rainfall in the second week of July killed at least 27 people; three are still missing. Similarly, the INF team distributed kitchen utensils to three of the landslide affected households in Parbat district.
INF has worked in the same locality in the field of agriculture, health, water and sanitation in the past.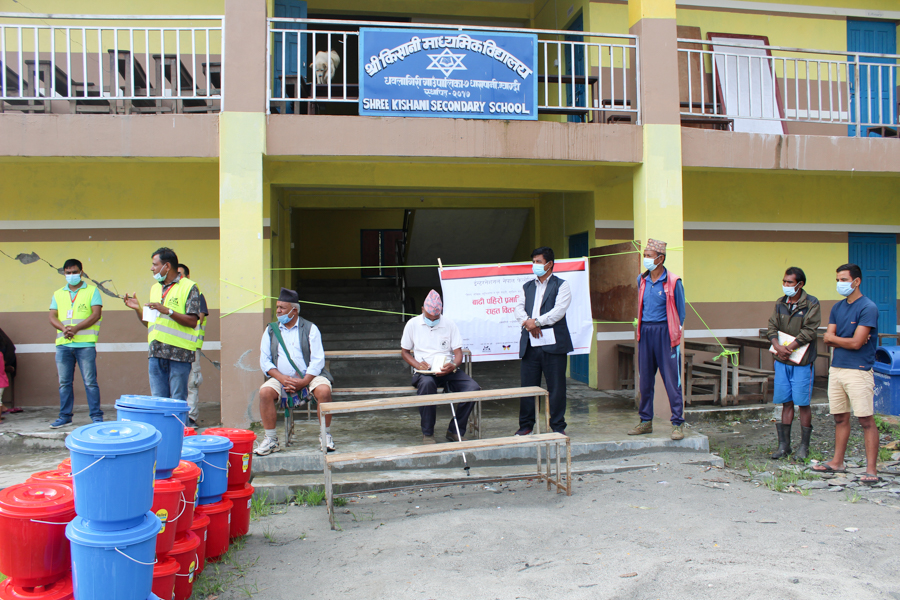 Support in Narharinath RM, Kalikot
In Kalikot, as many as twenty lives were lost, eight injured and many were displaced due to the flash floods and landslides caused by the torrential rain in the last week of July.
A total of 74 households from Narharinath Rural Municipality were provided with food packages [30 kg of rice, 2 kg of lentils, 2 litres of cooking oil and two packets of salt]. In addition, thirteen of the most vulnerable families were provided with two bundles of galvanised steel panels and hygiene kits along with the food packages.
Chairperson of the Narharinath RM, Mr Dheer Bahadur Bista, thanked INF for distributing much-needed support materials to needy people even during this pandemic crisis. He stated that he expected to collaborate with INF in the future.
All of these activities were conducted in direct coordination with the respective local government offices and following the proper physical distancing and necessary hand hygiene practices.
Each year during the monsoon season, massive rains trigger flash flood and landslides across the steep and mountainous terrain in the hilly regions of Nepal endangering many lives and communities.