INF Nepal is in the process of developing its new five-year strategy for the period of 2021-25 AD. As part of the progressive development, INF Nepal conducted a virtual Strategic Direction Sharing Workshop on 12 November 2020. The workshop was designed to communicate the strategic direction to key implementers for the preparation, ownership and further communication to the staff in the respective hospitals and projects. The workshop was also intended to generate the ideas through discussion among its key staff members. Twenty-five participants from different programmes and departments, including INF Nepal Senior Management Team attended the workshop through a Zoom conference call.
The workshop was facilitated by Dhaka Ram BM, Liaison and Support Director. The programme started with a prayer and devotion session led by the facilitator. He welcomed all the participants and provided a brief review of the five-year-strategy and the key focus in its development. He emphasised on having the right attitude to achieve any given goals. He quoted from the author Jeff Keller's book The Winning Attitude by highlighting the importance of thinking realistically, speaking thoughtfully and acting purposefully.
The workshop used a collective learning approach through Mix of presentations from INF Nepal directors and group discussion. An interactive group discussion session was also included to provide an ample opportunity for the participants to contribute to the development process.
INF Nepal Executive Director Krishna Adhikari presented the comprehensive update on INF vision, mission, characters, and values. He stated that these had been considered as the core foundation in developing the five- year strategy. He also shared the key implementing structure and areas of emphasis for Human resources in the five-year strategic plan. Similarly, the workshop saw the presentation from Community Programmes Director, Tanka Subedi and Medical Services Director Dr Dipak Maharjan. Both of the presenters highlighted the areas of key focus and attention for the coming years in community programmes and hospital services.
Likewise, Liaison and Support Director updated on the current and future tri-party agreement [INF International, INF Nepal and SWC] for Hospitals and Community Projects. He informed about the timeline and nature of the agreement being made with the Government.
In the latter half of the day, participants were divided into subgroup to review and reflect on the shared strategic direction. The workshop also saw a good mix of analysis and collective reflection from the participants, which was presented by each group of team leaders. The workshop not only set the course of strategic direction but more importantly was able to generate alignment among the key staff members generating their valuable input.
The workshop was concluded by Krishna Adhikari with words of encouragement. He thanked all the participant, organising members and facilitator. On his concluding remarks, he stated that with a greater dream lies a greater challenge and the level to discern commitment and support from all staff members, including management.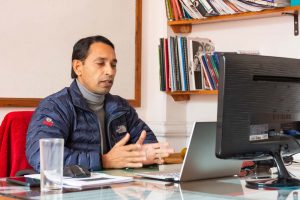 Tanka Subedi, Community Programmes Director