The World Health Organisation states that 90% of people worldwide don't have access to the mobility equipment they need. Among under-resourced communities and families, the lack is even greater. Too many families cannot afford or access the mobility equipment needed to participate in the community, hold jobs, and send their children to school.
INF Green Pastures Hospital, in collaboration with Joni and Friends from the USA and joint partnership with Sundar Dhoka Sathi Sewa, completed a five-day free Wheelchair Distribution Camp in Pokhara from 5–9 June 2023. In total, 152 people from 25 districts of Nepal received the custom-fit wheelchairs giving them the life-changing gift of renewed freedom and independence. Similarly, seven people received other forms of mobility equipment. The recipients were provided wheelchair propelling training by therapists, counselling sessions, and a handbook for wheelchair care and maintenance.
Wheels for Nepal is designed from the flagship programme of Joni and Friends—"Wheels for the World".
Meet Manoj
Manoj*, a 27-year-old man from Gorkha, was born with polio and has never been able to walk without assistance, even today. His mother is the one he loves and trusts the most to care for him. It's been five years since his father passed away. When he was a toddler, his family would carry him to school on their backs. However, as he got older and began to grow up, it became more difficult for his family to carry him. Because of the area's topography, he could not crawl since it would cause discomfort in his limbs. This also meant he was forced to withdraw from school.
His mother's greatest fear is that no one will care for her son after she passes away. Manoj dreams of starting a new business in his home village that will allow him to provide for himself and his family. This brand-new wheelchair will help immensely in his ability to live independently. Receiving his new wheelchair, Manoj's face brightened. His mother's smiles widened, and they expressed their gratitude.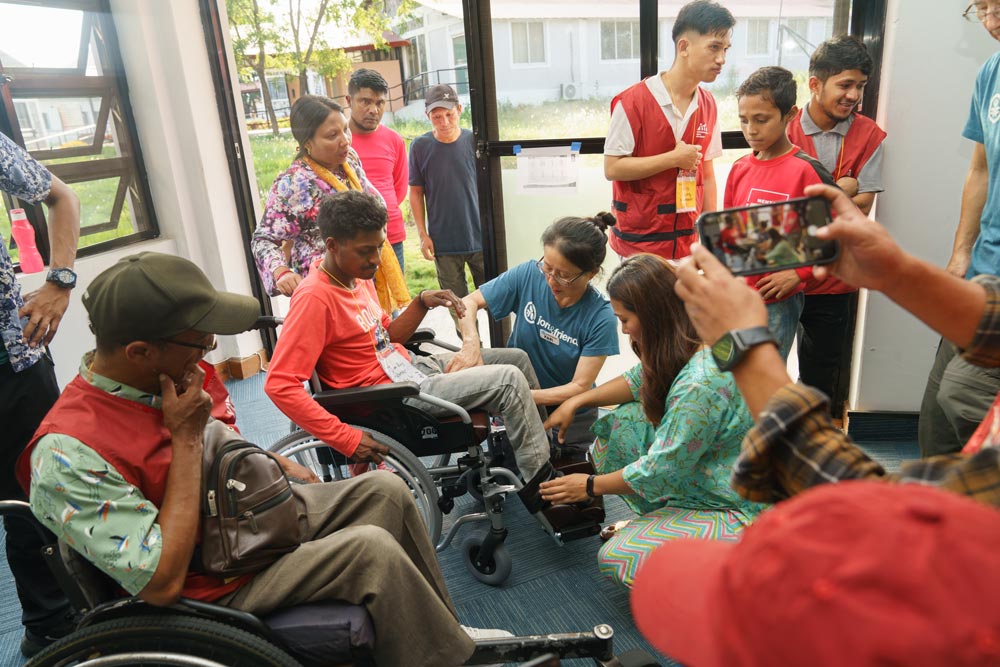 *Name changed for anonymity