In the serene district of Doti, Sudurpashchim, Nepal, lives Parvati*, a 54-year-old woman grappling with the challenges of her surroundings. Doti, nestled in the western hills of the country, boasts a landscape adorned with mid-hills and high hills. Here, the locals engage in agriculture and livestock rearing to sustain their livelihoods. However, this picturesque terrain belies some pressing issues faced by its residents.
As a young woman, Parvati got married at the tender age of 18. Within a year of her marriage, she found herself embracing motherhood. Unfortunately, her village lacked the convenience of a nearby birthing centre. When the time came for her labour, she experienced prolonged difficulties delivering her child within the confines of her own home. Despite the desperate attempts of a villager to help her, the situation remained dire. The following day, Parvati was transported to Dhangadi, the province capital, where her child was delivered, albeit lifeless. Tragically, this painful event marked the onset of an added affliction–urinary incontinence.
Returning home without her baby, Parvati carried the weight of grief and faced the burden of persistent urinary leakage. Her family sought medical assistance in various hospitals, yet her condition remained unremedied, enduring for a gruelling six months. Eventually, over time, her incontinence miraculously healed on its own. Two years after her first delivery, she once again embraced the prospect of motherhood. This time, however, her husband took proactive measures to ensure her well-being. They moved near the hospital one month before her expected delivery date, with her husband providing unwavering support.
Parvati underwent a cesarean section upon admission to the hospital to bring her daughter into the world. Tragically, the surgery rekindled her urinary incontinence, a secret she hesitated to divulge to her family out of shame. Eventually, her husband and other family members discovered her predicament, yet they neglected to pursue further medical intervention. Preoccupied with the birth of their daughter and the enduring incontinence, they failed to address her needs adequately.
In later years, Parvati found herself pregnant once again. She and her husband journeyed to Dhangadi, living near the hospital in anticipation of the birth. This time, she underwent a lower segment cesarean section, delivering a son. Overjoyed by the arrival of their long-awaited son, her husband and family members diligently cared for her well-being.
However, the weight of Parvati's condition continued to affect her life. The persistent odour of urine deterred her from engaging in social activities such as visiting neighbours, attending gatherings, or even partaking in religious ceremonies. Her existence remained unchanged, with her children growing up and establishing their own families. Parvati endured the burden of urinary incontinence throughout these years, and her grandchildren grew aware of her condition. They would candidly remark in their innocence, "Grandmother, you have wet yourself and carry a foul odour." Helpless and unsure of a solution, she felt trapped in her circumstances.
However, a glimmer of hope illuminated her path when a fellow woman from her village attended an orientation programme on fistula. Upon learning of Parvati's plight, this woman shared information about a free obstetric fistula treatment available at the Surkhet Fistula Treatment Centre. Grateful for this lifeline, Parvati contacted the centre and conveyed her struggles to the staff over the phone.
The staff at the Fistula Treatment Centre assured her that they could provide the necessary treatment for her obstetric fistula. Overwhelmed with joy and newfound hope, Parvati eagerly prepared to travel to the centre, accompanied by her 29-year-old son.
Upon their arrival at the Fistula Treatment Centre, Parvati underwent a thorough examination by a skilled doctor who confirmed the presence of the obstetric fistula. The doctor recommended surgery as the most effective solution.
Parvati spent 14 days recovering after the surgery with a catheter in place. She experienced a transformative moment during this time—her struggles with urinary incontinence ended. When the catheter was finally removed, she discovered she could pass urine naturally and without leakage. A sense of profound relief washed over her as she realised that, after 35 long years, she was finally free from the shackles of fistula.
The magnitude of the change in Parvati's life cannot be overstated. She was no longer burdened by the constant worry and embarrassment caused by urinary leakage. She found herself dry and able to participate in previously avoided social activities. Grateful for the life-changing treatment she received, Parvati reflects on her experience with immense gratitude.
Parvati embraced her transformed life with a renewed purpose and a grateful heart. She emerged as a symbol of resilience and inspired others facing similar challenges. Her journey is a testament to the transformative power of compassion, medical expertise, and the unyielding spirit of individuals determined to make a difference in the lives of those who need it most.
Fistula Treatment Centre, Surkhet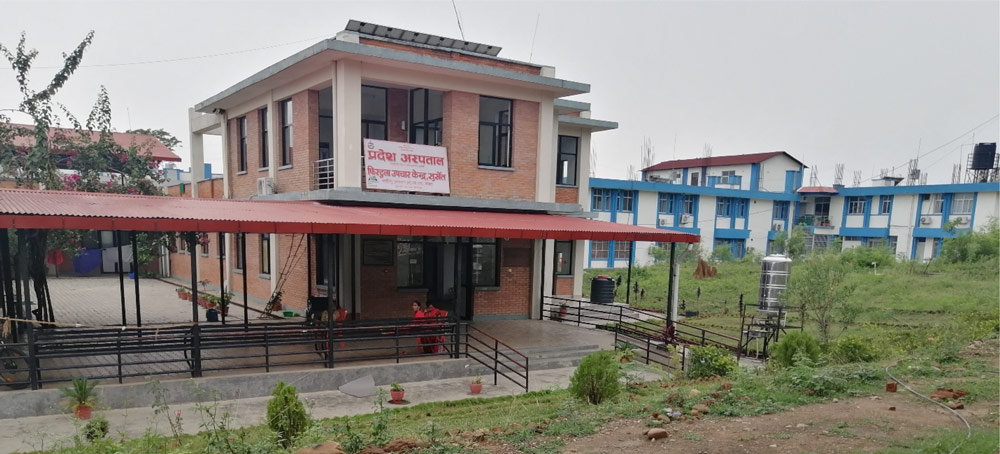 INF Nepal runs a 17-bed Fistula Centre within the Province Hospital, Karnali. The purpose-built facility, which Dr Shirley Heywood leads, can treat up to 300 women yearly. Through INF's outreach medical camps, Dr Shirley and her team have provided life-changing surgery, treatment and care to women with obstetric fistulas for many years. The Centre now provides compassionate, loving, and counselling medical care to help women like Parvati navigate the physical and emotional healing journey. The dedicated doctors and nurses work tirelessly to ensure their well-being, even going above and beyond to make the patients feel valued and supported.
Similarly, a team of outreach workers provides awareness about Fistula to the health workers and communities across the remote districts of Lumbini, Karnali and Sudurpashchim provinces. The outreach team's efforts identified almost all new patients presenting to the Fistula Centre.
The Centre also delivers training for health workers across the provinces. Obstetric Fistula is one of the most serious and tragic childbirth injuries. It is a hole between the birth canal and bladder, or rectum, caused by prolonged, obstructed labour without access to timely treatment. It leaves women leaking urine, faeces, or both, often leading to chronic medical problems, depression, social isolation, and poverty.
*Name changed to protect person's identity
This story is written by Anita Kshetri and Kanta Subedi.