Ram's Journey with Guillain Barre Syndrome and the Compassionate Care of Shining Hospital in Rural Nepal
Deep in the heart of a village in Barahatal, Surkhet, Ram* Bahadur and his family faced a challenging situation. With a father who relied on seasonal labour work for a living, and a young son struggling with a mysterious illness, they struggled to make ends meet.
Ram, a sixteen-year-old boy, had always loved sports and playing with his friends. However, he began to experience weakness in his legs and hands, which soon progressed to tingling and difficulty walking. Despite his concerns, his parents dismissed his complaints, leaving Ram feeling hopeless and alone.
It wasn't until five months later, when Ram's condition had worsened significantly, that his parents realised their son was genuinely ill. They took him to a private hospital in Surkhet, but the doctor there suggested he needed more specialised care. Desperate to help their son, they took him to a bigger hospital, where he was diagnosed with Guillain Barre Syndrome.
Ram's father was devastated to learn of his son's diagnosis. The financial burden of treatment was almost too much to bear. With little income, he struggled to cover the costs of medication and therapy, leaving him mentally and emotionally drained.
At this point, the family heard about the Shining Hospital in Surkhet. With nothing left to lose, they took Ram to the hospital, where staff examined him and provided him with physiotherapy services by a compassionate and experienced physiotherapist.
Despite the financial strain, Ram's father was overjoyed to see his son's condition improve after just four months of therapy. Ram could walk again and take care of his personal hygiene, a miraculous change that gave his family hope.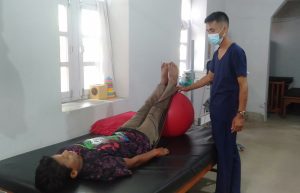 INF Nepal's Surkhet Shining Hospital is committed to serving persons with disabilities with compassion and care, helping them improve their quality of life.
* Name changed to protect the identity